Are you aware that there is a difference between a left and right handed iPhone wallet, Samsung wallet or phonewallet.

Watch the youtube clip, to see the difference and what it means to you.
Now you have a choice of colours for an iPhone or Samsung wallet.


Phonewallet is a smart way of carrying your iPhone, Samsung or other phone and wallet together.

Phonewallet makes carrying your phone and wallet simple, by keeping your phone, photo ID, credit / ATM cards and money in the one sleek wallet.
Phonewallet is slim enough to be slipped into your pocket and the design protects your phone and essential items. The larger phones and the iPhone 6s are challenging for some pockets and comfort.
You can use phonewallet as your everyday wallet, or when you go out and just need to carry your essentials.
Left or right handed makes a difference in the design that best works for you.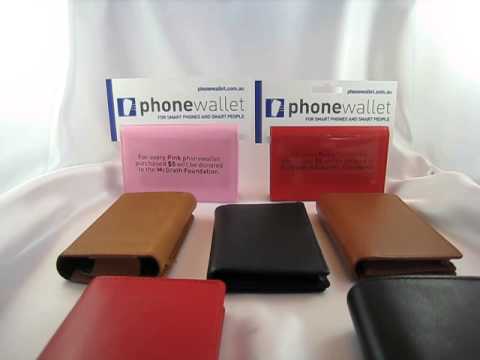 What are buyers saying about phonewallet:
"Just to let you know I received the wallet yesterday as you said. It's great mate, I'm very happy with it"
Luke


"As a busy working mother – I was looking for a product that could keep my iphone, and my cards (and perhaps a little cash) all together – and fit in my pocket if needed (especially great when doing the grocery shopping!) – your product certainly satisfy's that need, in a great colour and simple design"
Lee


"Receieved [
sic
] the wallet in the post yesterday, thank you so much - it's exactly what I was looking for and came so quickly! The leather quality is wonderful and it is by far the best looking iPhone wallet I could find. Thank you again for creating such a good quality product, good luck in the future I'm sure you guys will do very well!"
Alice


Check the Blog for recent comments.
Phonewallet for the larger smartphone is available only in marked Red leather, at a discount. It is suitable for the iPhone 5, HTC desire HD and the Samsung Galaxy S I and II models.

The larger phonewallet also meets the needs of those who still wish to have a cover (protect it from their children) on the smaller iPhone.

A phonewallet is available for the Samsung S3 to Samsung S5.
The new iPhone 6s wallet is the latest evolution of the phonewallet offering. It has taken over a year and created great satisfaction in obtaining this phonewallet from a Fair Trade Organisation using Eco (environmentally friendly) leather. Full details on the
iPhone 6s wallet
page. Originally made for the iPhone 6 it will also fit the iPhone 6s.
The original standard phonewallet was designed specifically for iPhone models prior to the iPhone 5. As an iPhone wallet, the standard phonewallet is compatible with all pre iPhone 5 models in addition to Samsung, Blackberry and other phone models with similar dimensions. The larger phonewallet is now only available in red and at a discount as the leather has marks or blemishes, it is best for those seeking an iPhone 5 wallet, Samsung phonewallet for S1 or S2, and for other larger smartphones. Phonewallet is also available for the Samsung S3 to S5.
Be it a iPhone or other smartphone, the phonewallet provides a sleek, practical solution for most users and finally offers colour choices, when looking to combine your iPhone or smartphone and wallet.
The standard phonewallet as an iPhone wallet is available as a premium leather wallet (Black, Red, Pink and Caramel) or in suede (STT Blue and Tan). The colour choices mean your phone is easier to find when placed in a bag with a dark lining. The larger phonewallet only available now in Red leather, it is suitable for the iPhone 5 and phones of similar dimensions. The Samsung S3 to S5 phonewallet is available in Black leather.
With the use of the free
Cardstar
application for your smartphone (iPhone and Samsung or other phones with the Android operating system) you can replicate your store / loyalty cards' details in your phone and leave your cards at home. No unnecessary bulky wallets!
$5 from the sale of every phonewallet or $2.50 for every discounted phonewallet is donated to different charities.
Pink
supports the
McGrath Foundation.
Red
,
Black
and
Caramel
supports the
Bobby Goldsmith Foundation.
To offer your suggestions for other worthwhile causes, please
email me
.
For donation updates, check the blog. $3431.50 donated to date.
"We make a living by what we get, but we make a life by what we give." Winston Churchill.
Satisfaction Guaranteed 100% Policy.

Buy with confidence. Includes a refund for your return postage and there are no restocking fees, if you are not satisfied with your phonewallet.
™ ©2010-2014 All rights reserved. Phonewallet is not affiliated with or representing Apple, iPhone, Blackberry, LG, Samsung, Nokia, HTC and any other product names. Names or logos used, quoted, and/or referenced herein are trademarks or registered trademarks of respective companies.